Second Documentary - 20th Anniversary (2013)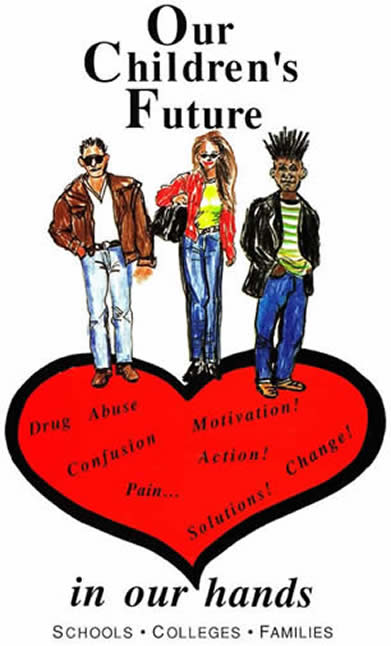 Written & Directed by Anatole Kononewsky

Although produced back in 1993, the documentary, "Our Children's Future in Our Hands" raises issues that are still relevant to all of us today! To celebrate the 20th Anniversary of its production I have selected a number of powerful excerpts from the documentary. They feature Susan Barton AM; Andy Walsh; the late Ken Windes; Dr Tony Vincent and Robert Kiyosaki. (See excerpts below.)
The original documentary was produced with an amazing team of people in Australia. It was launched around Australia in 1993 as a part of the initiative, "Before its Too Late".
The initiative supported a selected number of youth groups around Australia, the three projects MOVE (motivating & Empowering) LINK (Linking & Networking); GIVE (Getting Involved Very Easily). The trial national initiative was completed in 1996 when it donated its surplus funds to the Lighthouse Foundation Ltd (a project based in Melbourne helping homeless youth at risk).
At that time in 1993, Max Walker and Robert Kiyosaki were the national media spokesmen for the video launch and initiative. This was also supported by many celebrities, politicians and business leaders such as, Mark Davis, Managing Director of the Stonehenge Group, Angry Anderson, the late Jim Stynes, Lulu, Gary Busey, Peter and Beverley Brock, Joseph Chilton Pearce, etc.
At that time, we also had the special support of DC Cordova, CEO of Excellerated Business Schools® and Money & You®, now a global organization with over 95,000 graduates from all over the world.
The documentary was used with a specially designed handbook by schools around Australia. The documentary looked at the problems from a personal, social and ethical level, seeking to empower the viewer with the attitude necessary to find solutions. It is pertinent to young people experiencing difficulty with authority, achieving, parental relationships, or any other socially alienating attitude. It also examined the inadequacies of the prison system.
Comments, Melbourne Launch, 1993

Anatole Kononewsky, Kalli Pulos, Paul McKessey, DC Cordova (Front)

Max & Kerry Walker, Robert Kiyosaki (Back)

"Before it'sToo Late" initiative - National Media Coverage, 1993

Original Documentary - 1993
| | |
| --- | --- |
| Part 1 of 4: Our Children's Future in Our Hands | Part 2 of 4: Our Children's Future in Our Hands |
| Part 3 of 4: Our Children's Future in Our Hands | Part 4 of 4: Our Children's Future in Our Hands |
Selected Excerpts - Directors Choice...
"See what we can be"
Words, Music & Performed by Anatole Kononewsky
I wrote the song for the launch of the "Before it's Too Late" initiative and the video documentary, "Our Children's Future, in our hands". Jerry Speiser, (the drummer from "Men at Work") helped me produce this simple home demo recording at his place in Melbourne. It was mainly created as a guide for the Fitzroy Community School Choir who performed the song at the launch, coordinated by Philip O'Carroll, Drusilla Hendry and Sumitra Phoenix.
Poem by Robert Kiyosaki
"Before it's Too Late" initiative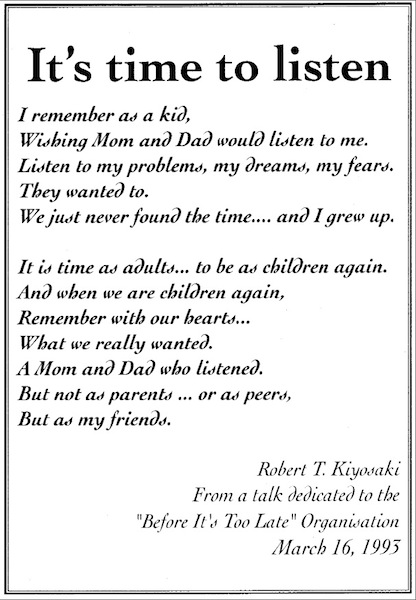 Proposed International Initiative

The issues raised in the above documentary back in 1993,
unfortunately are still as relevant to every one of us!
Today, more than ever we know that the future of
our children is in the hands of every one of us.

The Soft Diamond Light package launched the vision of Soft Diamond Light
This is essentially the international version of the "Before it's Too Late" initiative.
The question is how far can we see...
The Global Initiative for the vision of Soft Diamond Light is:
"Ending Child Abuse. Creating remarkable children!"
Powered by
Going beyond what you thought was possible!
______________________________________________
Soft Diamond Light package | Special eBooks available
© 2013 Anatole Petrovich Kononewsky